1100 Litre Commercial Bins
Our 1100L commercial bins are the largest available bins, and are used to store a variety of commercial waste in great capacity. Our 1100L bins are ideal for businesses generating high volumes of waste on a regular basis.
With lockable wheels and lid, they are also an incredibly secure and contaminant-proof solution for businesses storing their large volumes of commercial waste safely and without concern.
Book your 1100L bin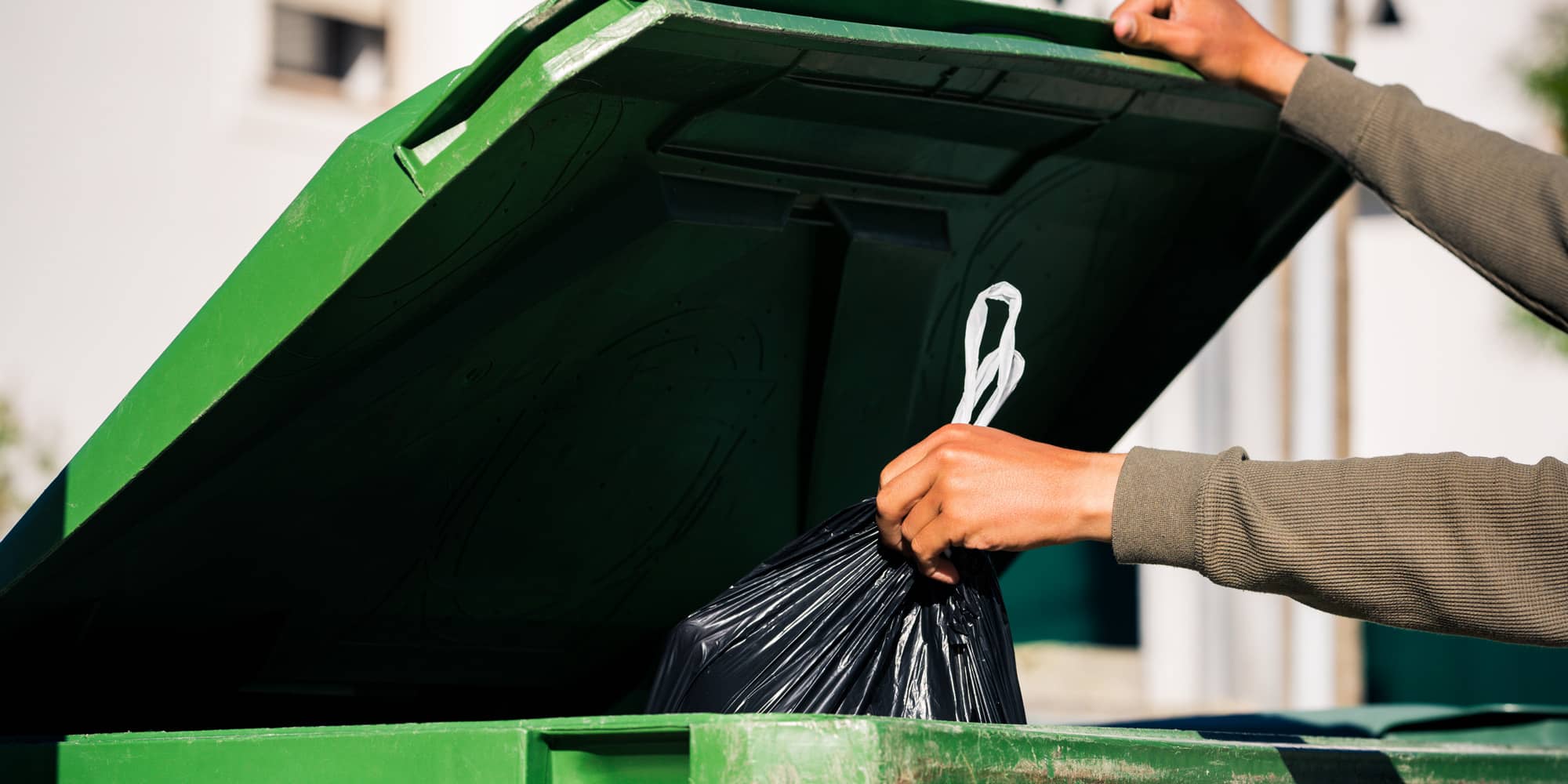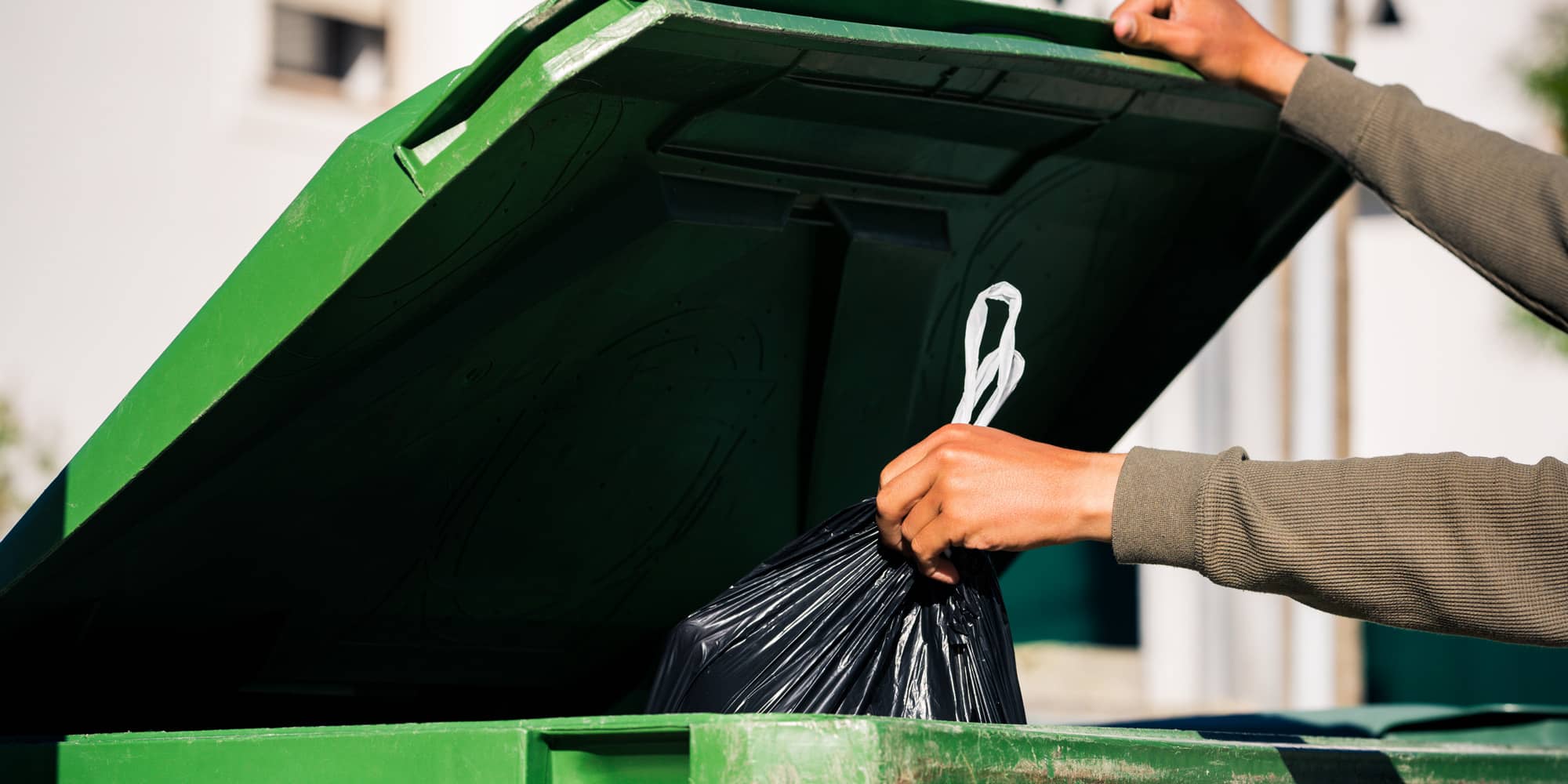 Get a free 1100l business bin quote
"*" indicates required fields
What can go in our 1100L commercial bins?
Our 1100L commercial bins are able to hold various types of commercial waste, including:
General waste
Dry recycling
Paper and cardboard
Plastic
Compactable waste in bin bags
However, they are not suitable for the following waste types:
Glass recycling
Hazardous waste
Liquid waste
Segregated food waste
We will deliver your 1100L commercial bin to you for free and all you have to do is pay for the collection. Arrange your preferred delivery and collection, or get a FREE quote today.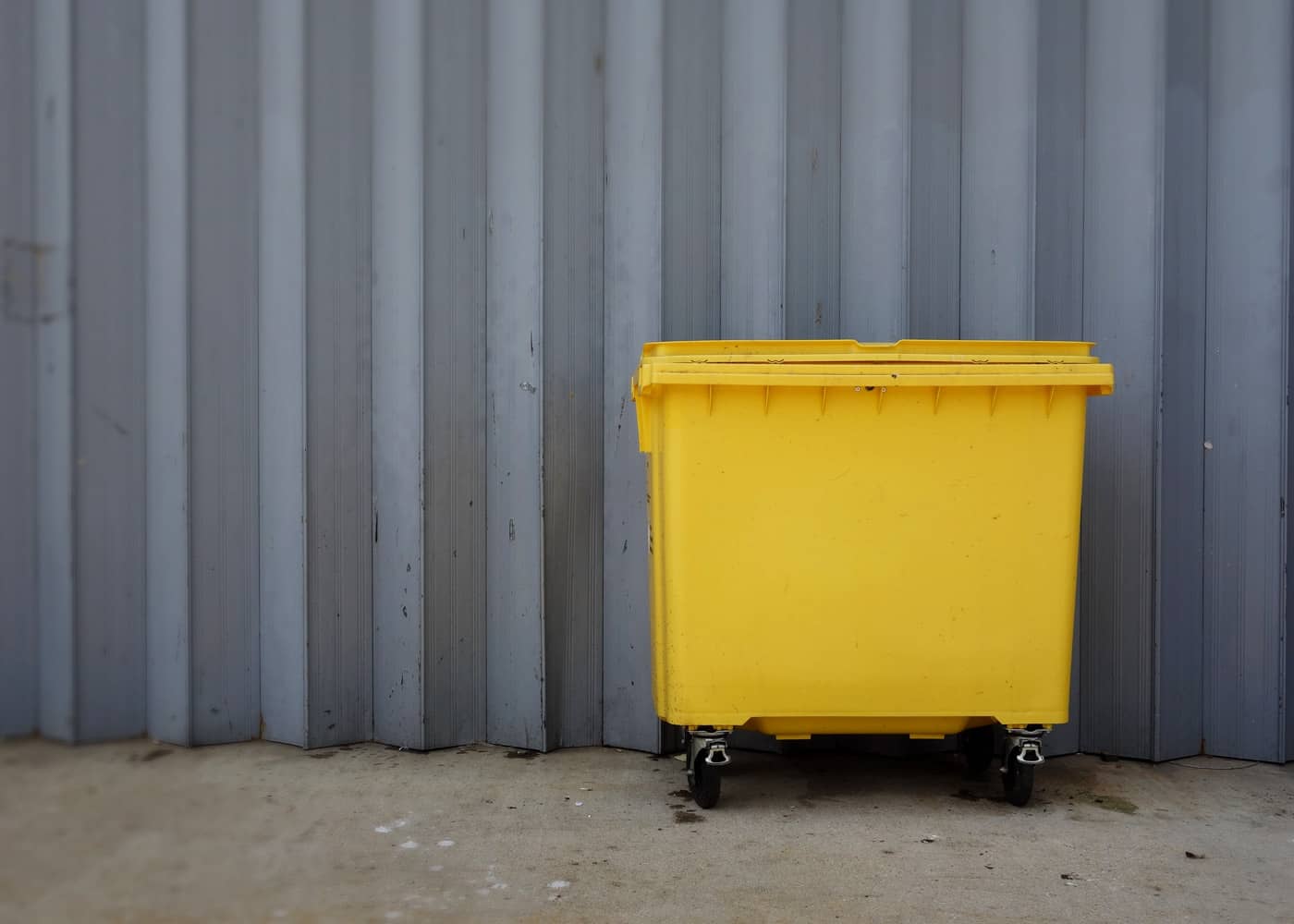 Why should I get a 1100L commercial bin?
Made from sturdy mix of metal and plastic, these four-wheel bins are:
Highly durable
Weatherproof and suitable for outdoor storage
Able to hold between 15-18 bags of waste
Suitable for a variety of waste and recyclable types
This makes the 1100L commercial bin a perfect addition to any large business looking to optimise their waste management in Liverpool.
Think you need a different sized commercial bin? Browse our selection here, including 240L and 600L bins.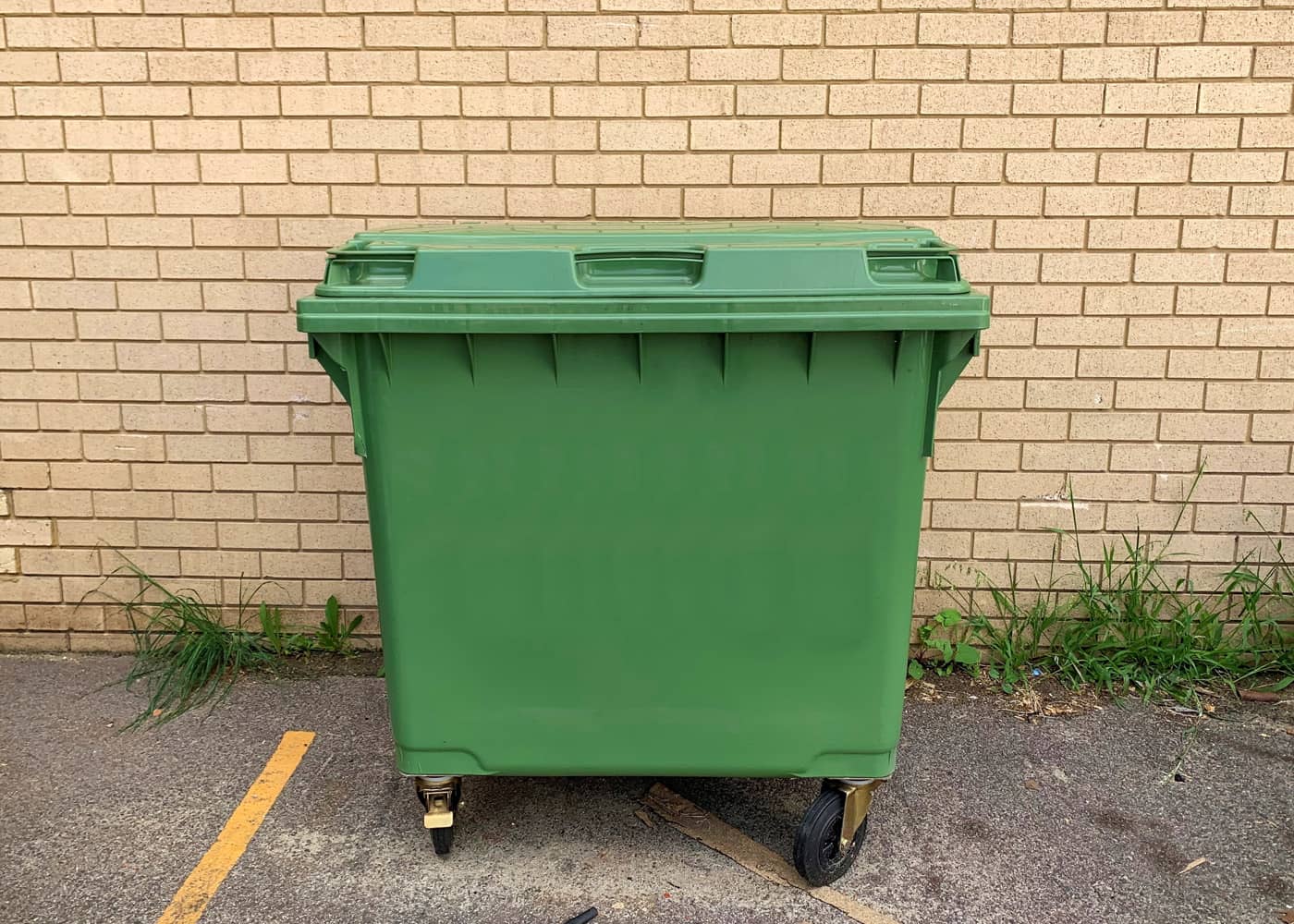 Arrange your 1100L commercial bin delivery and collection
With Wavertree, you can enjoy the free delivery and collection of our impressive 1100L commercial bins in Liverpool and the North West.
Let us know how many of our 1100L commercial bins you need and in which colours, and we'll sort the rest out for you. Save time, effort, and money today with our 1100L commercial bins.
Just make sure you fill each of your bins with one specific type of waste within the relevant weight limits, and keep it stored in a safe place until the date of your pre-arranged collection, where one of our accredited waste management professionals will pick your bin at the agreed time and place.
As it is a significantly larger bin than some of our smaller commercial bin options, we recommend you check that you have a space within your business where you can store your 1100L bin, and safely leave it out for collection.
Let us know if you want your 1100L bin collected on a daily, weekly, or fortnightly basis, we'll work around you – just remember that if it's food waste you're removing then you'll want to do so sooner rather than later.
Call us on 0151 734 3431 or contact our team online for a FREE quote on our 1100L commercial bins in Liverpool, and our waste management professionals will answer any questions or provide any further support that they can whilst you figure out which bin size is best for your business.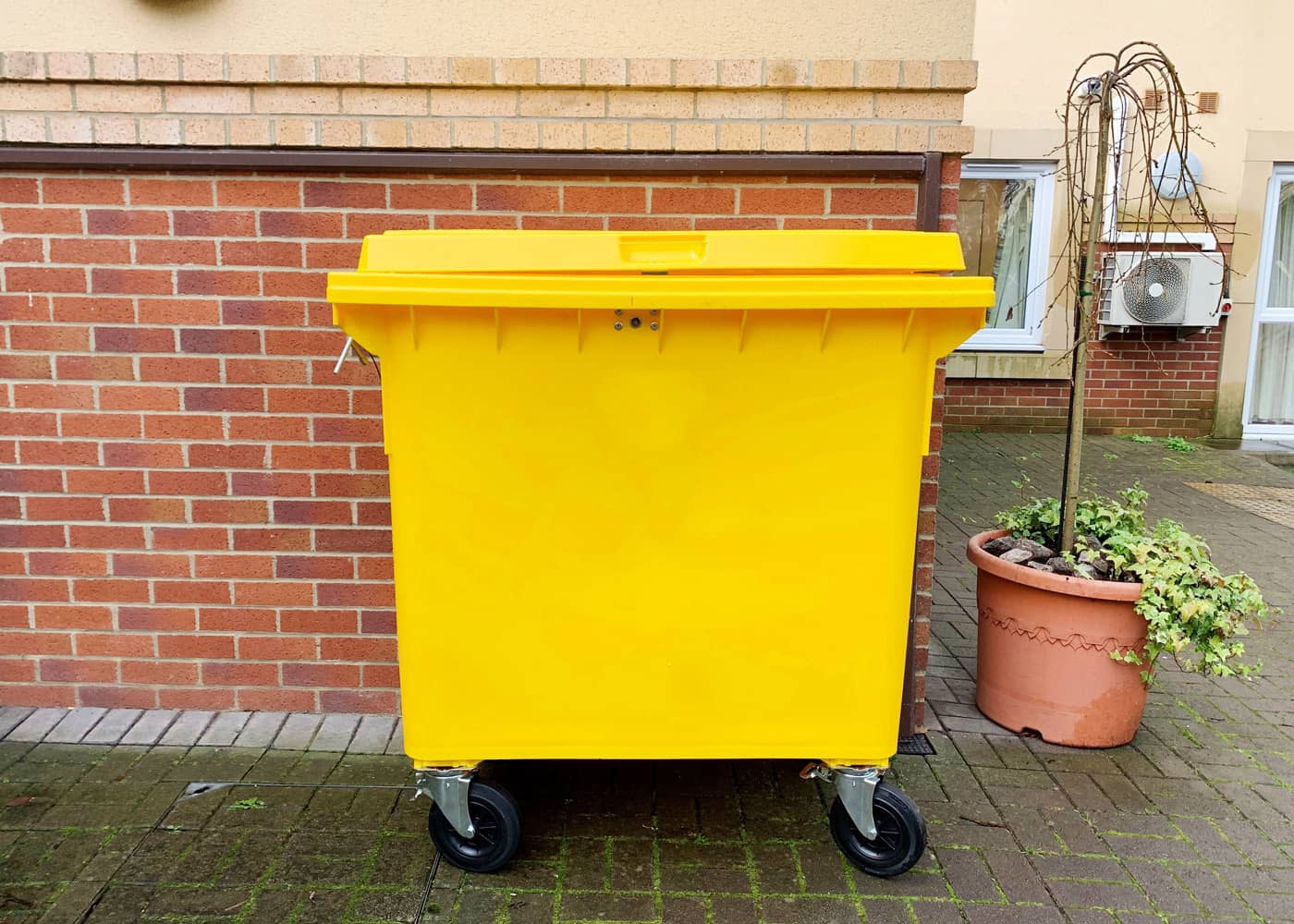 FAQ's
How often should 1100L commercial bins be emptied?
The frequency of emptying your 1100L bin depends on how much waste your business generates. Because of this, we'll arrange a set emptying schedule with you throughout the month to ensure that you're always getting your waste disposed of consistently and on a basis that suits your needs.
What kind of waste can go into a 1100L commercial bin?
Our 1100L commercial bins are suitable for various types of non-hazardous waste, including:

- General office waste
- Paper
- Cardboard
- Plastic
- Light packaging materials

What are the dimensions of a 1100L bin?
Our 1100L bins are approximately 1.4m (H) x 1.26m (W) x 1.0m (D)
How much waste can go into a 1100 L bin?
The amount of waste that can go into a 1100L bin depends on the type of waste. For example:

- Dry mixed/cardboard recycling - 35kg
- General waste - 65kg

We are loved by our customers
"They supply 2 of our businesses with General Waste Bins plus Glass Recycling bins. Pleasure to deal with, flexible service, always collect same day on time every week. Rapid response when needed and even carried out additional emergency collections on request. Highly recommended."
"Excellent. Due to a planning mistake on my behalf I needed a skip urgently. These guys took my call on a Thursday at midday and had a skip outside my house on the Friday. Everything was swift and easy with the pick up. Prices were reasonable and as quoted."
"Good service ,skip delivered on time, the delivery driver was pleasant guy, placed the skip where I wanted on the garden, will use this service again."
"My go to when I need a skip, prices are great compared to other company's and staff are always polite on the phone."