Our skips & waste management services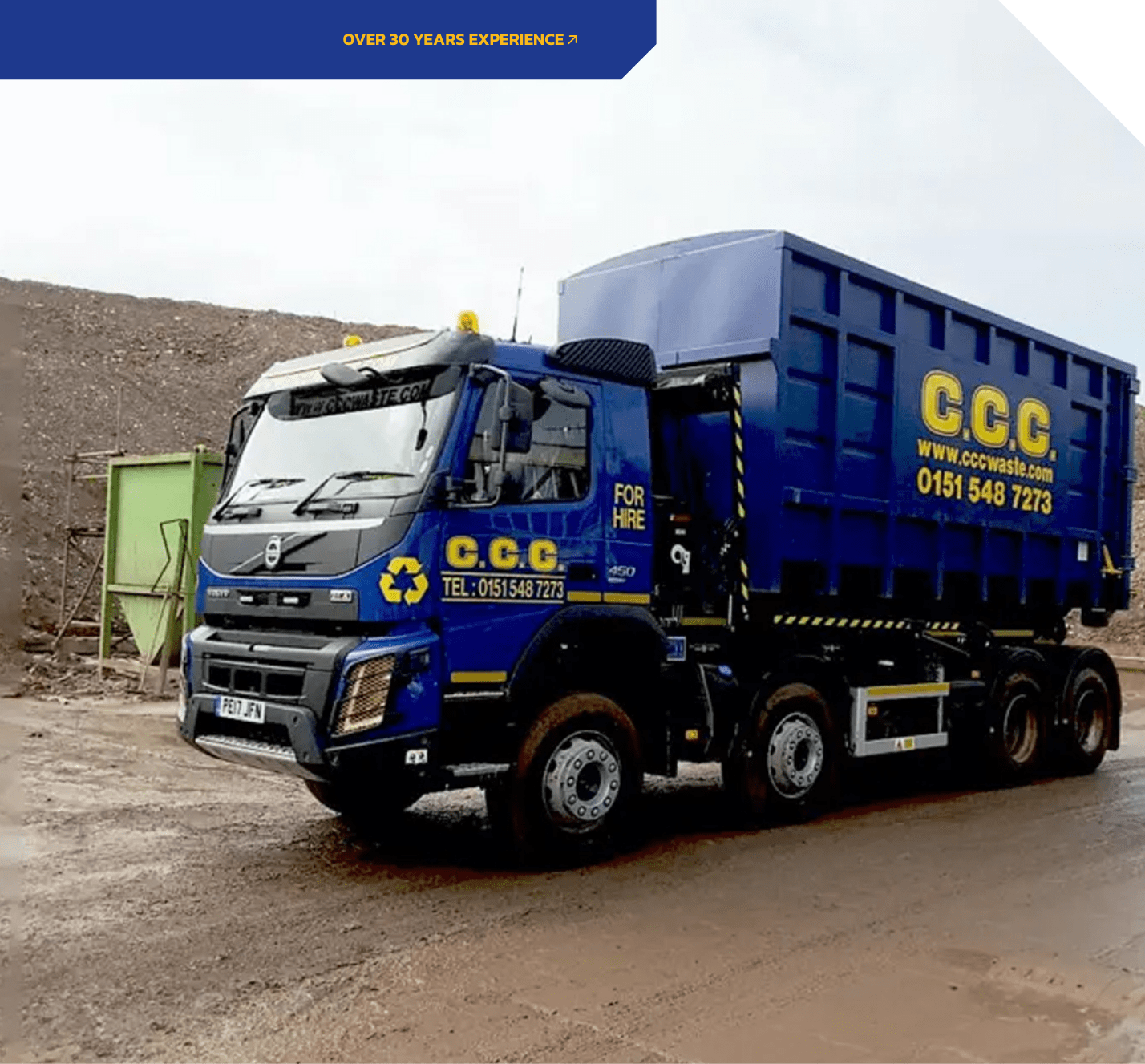 Proud to be part of the C.C.C Group across Liverpool
We offer extensive waste management services as part of the esteemed C.C.C Group – an established, family-run waste management company based in Liverpool trusted by local councils and companies across the region to handle their vast array of waste management needs. 
We deliver skips to domestic and commercial projects across the region and then to one of our notable waste recycling centres, including our Liverpool site which is one of the largest of its kind in the North West. 
This allows us to handle any and all waste management requirements you can throw at us in a way that is timely, professional, and competitively priced.
Request a callback
"*" indicates required fields
Our environmental contributions
95%
Of waste reused or recycled
Virtually all of the waste that we take from you is either reused or recycled onsite, or sent to one of our partners for further processing. We aim to recycle and divert 100% of our waste.
1000+
Helping power homes
Our residual waste is converted into energy at Waste2Energy plants where it goes to power and heat thousands of homes across the country.
30-acre
Largest waste recycling plant in Liverpool
Our unique waste recycling plants, including our 30-acre site in Kirkby, give us the capacity to recycle over 30,000 tonnes of waste per week.
Waste management in three easy steps
Get in touch
We want to hear from you! Give us a call about your waste management needs to get the ball rolling.
Receive a quote
Once you've told us what you need, we'll let you know how much your competitively-priced waste management solution will be.
Make it a date
Once we've crossed the T's and dotted the I's, let us know when and where you want your waste management solution.
Why choose Wavertree for your waste management needs across Liverpool?
Delivery & collection

Don't worry about any hidden or surprise fees, just one competitive price and reliable delivery & collection of your skip.
Next day delivery

We know the North West like the back of our hand so if you need it, we'll try to get your skip to you within a day.
Fair prices

There's a reason why we're the leading skip hire company in Liverpool - we offer the good home and business owners of the North West fairly priced skips for all their waste management needs.
Free advice & support

We're always just a phone call away to answer any questions or concerns you may have about your skip hire.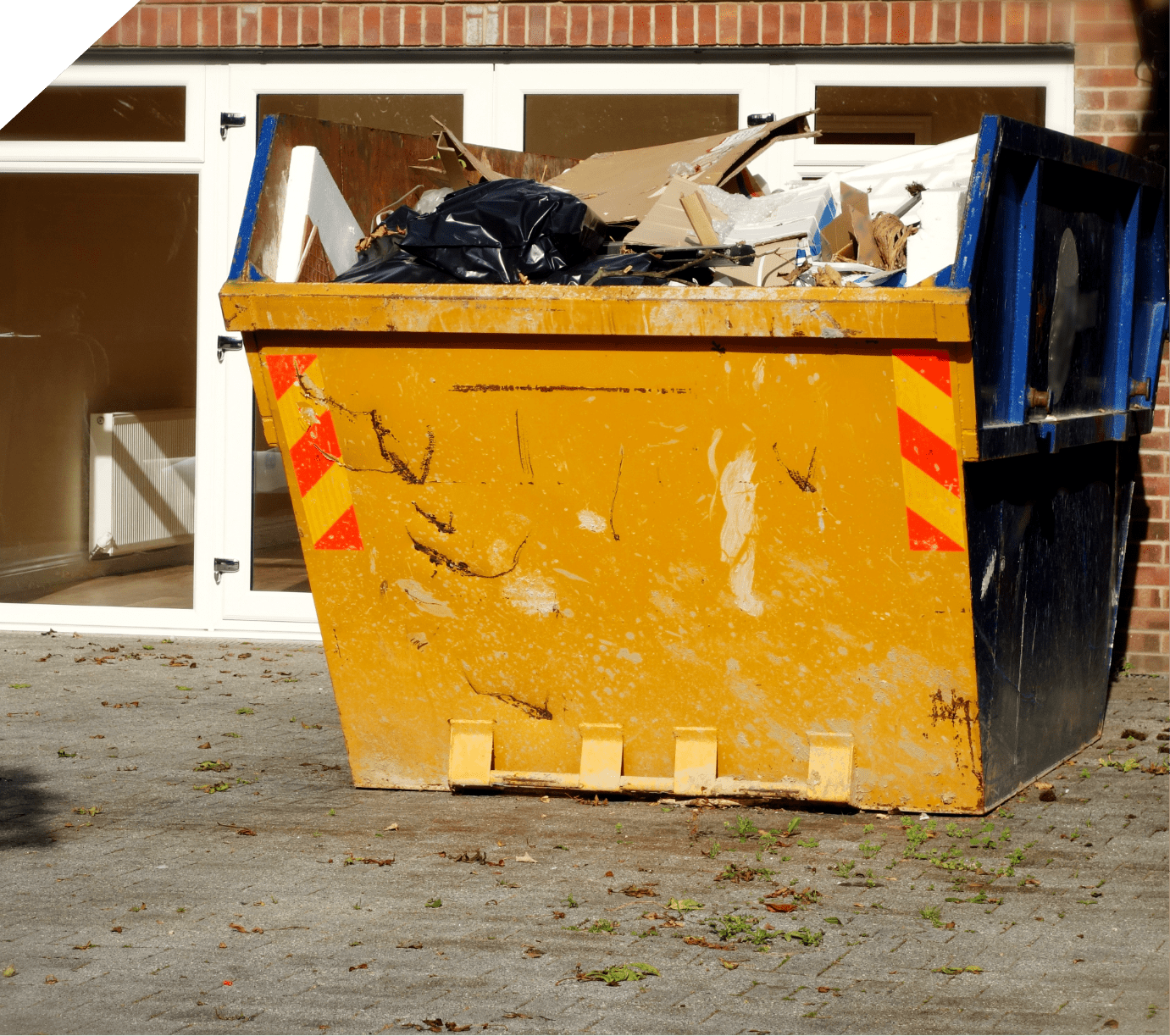 Frequently Asked Questions
We'd love to speak to you personally about any aspect of your waste management but in the meantime, here are some questions we get asked a lot.
What is waste management?
Waste management is the process of collecting, treating, recycling, and disposing of waste materials in an environmentally responsible manner.

The goal of waste management is to minimise the impact of waste on the environment and on human health.
Why is waste management important?
Waste management is important because improper disposal of waste can lead to pollution, contamination of water sources, and the spread of disease.

Effective waste management practices also conserve resources, reduce greenhouse gas emissions, and support sustainable development.
What size skip should I hire?
The size of skip you should hire will depend on the amount of waste you need to dispose of.

Skips come in a range of sizes, from small 2-yard skips to large 40-yard skips. A 2-yard skip is suitable for small DIY projects, while a 40-yard skip is more suitable for large commercial projects. If you're unsure what size skip to hire, get in touch with Wavertree here so we can advise you further.
What can I put in a skip?
Our skips cater for a vast array of items and materials, including:

- Household waste
- Garden waste
- Construction waste
- Bricks
- Furniture
- Cardboard and packaging
- Non-electrical fittings
- And more

If you want to know if a specific item will go in our skips, then just give us a quick call However, there are some materials that you cannot put in a skip, such as hazardous waste, electrical equipment, and tyres. If you're unsure what you can and cannot put in a skip, ask us for guidance.
What can I not put in a skip?
There are some items and hazardous materials we can't accept in our skips, including:

- Electrical equipment
- Asbestos
- Gas cylinders
- Batteries
- Solvents
- Tyres
- Soft furnishings
- Fuel
- Paint
- Medical waste
- Plasterboard
- Mattresses
- Glass

"They supply 2 of our businesses with General Waste Bins plus Glass Recycling bins. Pleasure to deal with, flexible service, always collect same day on time every week. Rapid response when needed and even carried out additional emergency collections on request. Highly recommended."
"Excellent. Due to a planning mistake on my behalf I needed a skip urgently. These guys took my call on a Thursday at midday and had a skip outside my house on the Friday. Everything was swift and easy with the pick up. Prices were reasonable and as quoted."
"My go to when I need a skip, prices are great compared to other company's and staff are always polite on the phone."
"Good service ,skip delivered on time, the delivery driver was pleasant guy, placed the skip where I wanted on the garden, will use this service again."